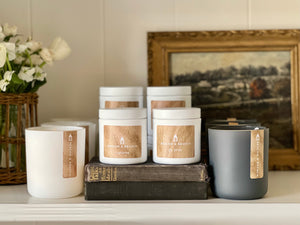 What Our Customers Are Saying
"Every little attention to detail on your candles and packaging is amazing! And the candles are so nice- they burn clean and smell great!" -Miriam W.
"I love how your candles do not give me headaches - first and foremost. I am very sensitive to chemicals in the majority of candles. After trying one of yours - I knew it would be okay for me. Plus, your candles have such unique scents and just smell so good! So here I am, a customer for life! Your shipping is fast, too! The candles are always wrapped and packaged so lovely so no breaking occurs. Your company is just all around great!" - Michelle H.
"Candles are my favorite gifts to give and receive. Your products check all my boxes- clean burning, natural scents, and beautiful packaging!" - Nanci G.
Featured Candle Collection
---
ELIZABETH SEAY
Founder of Beacon & Branch
- OUR STORY -
What do candles have to do with design? In attractive and inviting spaces- all the elements of good design must converge into one multifaceted yet cohesive experience. In the layering of texture, color, form and light- "aroma" is often overlooked. The scent of a gently fragranced room is the warm welcome and the lingering memory long after.
Beacon & Branch candles were inspired with this harmony of design + essence in mind. With natural ingredients and enduring artisan fragrances, our candles set the mood for beautiful moments and times of renewal.
Our luxury candles are filled with a coconut wax blend and infused with essential oils, each one hand-poured in small batches in the heart of Cypress, Texas.